Filmmaking workshop
The Filmmaking workshop will show you how to film your own productions, whether you want to make a short film, a skate boarding/sport video or even a music video for your band. With technological advances in digital cameras making your own mini master pieces has never been easier or more accessible.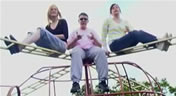 The workshops can take place on one day, or several, and are aimed providing an introduction to filmmaking. Alternatively on six-week courses you can plan and make your own film which gives you more hands on experience in camera operating and editing. You will learn about the various roles in filmmaking and what they involve. You will get technical support on the practical work and will leave with a professionally finished DVD or video of your work.
The Filmmaking workshop leaders
Our tutors have studied film making, editing and have worked all over the UK and Europe for various organisations. This includes films, TV, corporate and live event work. They are professional cameramen, and editors, and are busy working in the industry when they are not tutoring.
Scheme of work
Principal purpose:
To learn how to make films, or practise existing knowledge
Benefits include:
Learn where and how to get your work shown
Get the most out of your camcorder and PC/Mac
Leave with a product you can promote yourself with - maybe you can make a skate video promoting your skill/football/music etc
Highlights of the workshop:
Learn how to capture film/video images and the correct way to assemble them
Watch your creative idea come to life
All participants will have the opportunity to:
Learn the 3 stages of production
Learn about the various roles in film and what they do
Learn how to plan your production
Film your own film
Edit your own film
Learn where and how to get your work seen
Evidence of participation
Many youth schemes require evidence of learners' participation and achievements in wider learning projects to contribute to the young person's file or CV. Top Dog can support this by providing a Top Dog Certificate of Achievement.