First Aid workshop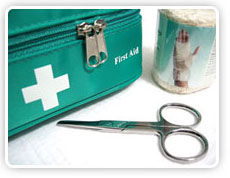 Whether you require an "appointed person" or "first aid at work" courses, our instructors hold qualifications recognised by the Health & Safety Executive. Our courses cover what is required by law and at the same time are delivered in a manner which brings realism, including practical "hands on" scenarios and role plays.
Whether you're in a school, youth group, leisure centre, warehouse or office, our trainers can deliver courses to suit your schedule and needs. From bandaging a cut to CPR and everything in between, our instructors have learned their craft within the police service with regular updates from some of the most experienced and knowledgeable first aiders in the country.
At the end of the session (minimum course 6 hours) each person will be individually assessed in a role play scenario and subsequently awarded an "appointed person" first aid certificate*.
Course objectives
Allergic reactions
Asthma
Bleeding
Broken bones
Burns or scalds
Choking
CPR
Diabetes
Drowning
Head injuries
Heat stroke
Hypothermia
Recovery / Drainage position
Resuscitation
Shock
Spinal injury
Sprains and strains
Unconsciousness
* Every effort will be made to achieve a 100% pass rate but this cannot be guaranteed. We have not had to fail anyone yet though! Certificates cost £20 per person and will be posted after the workshop to an agreed address.
Evidence of participation
Many youth schemes require evidence of learners' participation and achievements in wider learning projects to contribute to the young person's file or CV. Top Dog can support this by providing a Top Dog Certificate of Achievement.