Guitar workshop
For complete beginners as well as those with some skill in guitar playing. Learn to play some of your favourite tunes!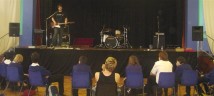 Learn and perfect chord structures, which could be used to write songs. Learn strumming and picking techniques as well as other styles of playing. Find out about equipment and different types of guitars. The skills learnt on this workshop could be used to write songs and produce material, which could also be used to record demos to be sent to record companies and/or to obtain gigs. This workshop will set any budding guitarists off to a good start and help progress those with previous experience.
The Guitar workshop leaders
Our main workshop leader Ross Gill has worked as a private guitar tutor for several years as well as playing professionally as a performer himself. He is qualified with a Diploma in contemporary music and music technology and has taught in various schools and collages since 1998, both freelance and for Hampshire music service.
Ross is an accomplished musician in his own right and has worked as a session guitarist in folk, rock, r'n'b, pop, blues, and soul etc. He set up, runs and produces for Ambience Studios and is guitarist/front man for touring three piece rock group Replenish signed to Ambience Records, with whom he regularly runs music and band workshops in schools. With his wide range of experience both in the field of guitar and the music industry at large, this workshop makes for a professional and informative experience.
Scheme of work
Principal purpose:
To receive good tuition on playing the guitar, including various styles and all abilities. Introduction to the world of the guitarist i.e. job opportunities, knowledge of the instrument, equipment etc.
Benefits include:
Having a go playing a real instrument and playing some popular songs, showing it's not something out of reach!
Gaining an insight into the life of a guitarist/band/touring/studio life etc
Highlights of the workshop:
A complete overview of playing guitar and working as a guitarist. Learning the basics for beginners, and more advanced work for those with some experience. All within a professional and relaxed environment!
All participants will have the opportunity to:
Get hands on professional tuition on the guitar, try various guitars and equipment, and ask any questions to a full-time guitarist/band member on any aspect of the industry!
Evidence of participation
Many youth schemes require evidence of learners' participation and achievements in wider learning projects to contribute to the young person's file or CV. Top Dog can support this by providing a Top Dog Certificate of Achievement.