Street-dance workshop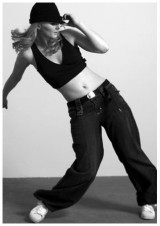 Learn some of the dance routines that have made Britney Spears and Justin Timberlake world famous. Come prepared to make up some of your own dance moves and get sweaty!
Following a warm up and a basic overview of the hip hop style of dance; co-ordination, movement and rhythm are some of the skills enhanced on this workshop. Numerical skills are used to count beats and work with rhythm and teamwork is essential. Street dance is a group activity that really encourages people to work together as well as build confidence. The songs and music used are geared to the current charts using popular music that fits the hip-hop realm. This workshop is very practical – you get stuck straight in learning moves and a full-choreographed routine that will even impress yourself! Many people have shown an interest in putting a dance troupe together and begin to perform in their local community and even pass on their skills to others following taking part in this workshop.
The Street-dance workshop leaders
Our dance tutors have all had training in dance ranging from modern and jazz to hip hop. All have performed with various dance groups professionally taking them across the world on tours and with shows and are experienced choreographers too.
A couple of our tutors currently work for trusts and charities training people to perform as part of pop bands that work in secondary schools. This involves regular dance teaching along with trying to bring out the confidence and character of each individual student. Others teach in schools as part of the curriculum and after school clubs while others dance regularly for touring bands. Their wide ranging experience of their Art as well as working with people of all ages makes this workshop a skilled yet accessible learning experience for the absolute beginner to the more experienced dancer.
Scheme of work
Principal purpose:
Give participants a chance to try to learn and perform some basic (or whatever level they are at) hip hop dance
Benefits include:
Learning to dance in a hip hop style
Learning choreography
Improving style and confidence in dancing
Highlights of the workshop:
Learning to dance like your favourite MTV stars!
Getting to perform for the rest of the group
All participants will have the opportunity to:
Learn some moves and style
Practise and develop their skills
Practise and perform all moves joined together into a routine and perform for the group
Evidence of participation
Many youth schemes require evidence of learners' participation and achievements in wider learning projects to contribute to the young person's file or CV. Top Dog can support this by providing a Top Dog Certificate of Achievement.